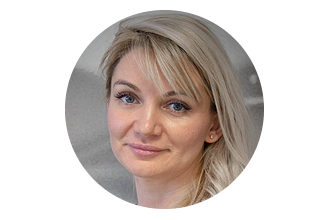 Dr. Catalina Romila
Principal Dentist
DMD (2004), MSc with Merit Clin Perio (UK) | GDC No.: 175910
Catalina is a friendly, compassionate dentist who is extremely enthusiastic about her job. Her ethos drives from creating positive experiences for her patients and empowering anxious ones by increasing their confidence and making them feel in control over the treatment. She has formal training in Dental Hypnosis from Eastman Dental Institute in London. This allows her to safely apply various methods to help the phobic patients relax during the dental procedures.
She studied at one of the most prestigious Dental Universities in Romania and after qualifying in 2004, Catalina worked for 6 years as a general dental practitioner at her own practice. She moved to the UK in 2010 and gained vast experience both in the NHS and private fields of dentistry.
Catalina has a special interest in Periodontics (Gum Health), recently being awarded a Masters Degree with Merit in Clinical Periodontology by the University of Central Lancashire. She believes that the status of the gums has a huge impact on the dental and general health of the patients.
Catalina is a member of the British Dental Association and British Society of Periodontology.